Voted Best Animal Hospital in Lincoln, Nebraska for the second year in a row!
Welcome to Pitts Veterinary Hospital
Voted Best Animal Hospital in Lincoln,
Nebraska for the second year in a row!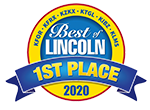 Learn more about what we
offer and who we are!
Order your pet's prescriptions
and food online!
Pick up your pet's prescription at our clinic through AllyDVM,
or buy it online through our online pharmacy.
Make Appointment
We are happy to book an appointment for you! Quickly and easily schedule an appointment using our online form, that is convenient for you and your pet.
Pet Health Library
Pitts Veterinary Hospital is pleased is to provide a library of professionally written articles updated by practice experts and reviewed by practitioners.
Fear Free Certified!
"Fear Free Certified Professionals are a cut above the rest when it comes to caring for your best friend. Having completed 16 hours of veterinary education with stringent testing and annual continued education requirements, our Fear Free certified professionals not only look out for your pets' physical health, but also their emotional well-being.
Whether you are looking for a veterinary professional who knows how to handle a fearful, anxious, or stressed out pet, or you simply want the best care possible for your four-legged friend, a Fear Free Certified Professional is here to help. "
More about Fear Free
We're AAHA Accredited!
"Not all animal hospitals are accredited. Nearly 60% of pet owners think their pet's veterinary hospital is accredited when it is not. In fact, only about 3,700 (12-15%) animal hospitals in the United States and Canada are accredited.
What does accreditation mean? It means our hospital holds itself to a higher standard of veterinary care and that your pet is receiving the best possible care at our hospital."
More about AAHA
See Our Announcements
Scroll through to see what's going on at our clinic.
Our Team
Get to know the doctors and staff at Pitts Veterinary Hospital. Most of us are Fear Free Certified, and we are dedicated to taking the care of your furry family member seriously.
Services
We offer a wide range of services including medical, diagnostic, surgical, wellness and preventive health care needs for your pets so they live healthy, happy lives.