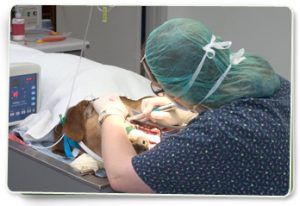 Veterinary dental care is an important part of a preventive medical regimen. Pitts Veterinary Hospital offers a full range of dental services.
Prevention: The Best Medicine
Dental care does not end with a visit to your veterinarian. You need to continue your veterinarian's good work at home. Brushing your pet's teeth is an important part of home dental care. Any member of the Pitts Veterinary Hospital team can show you the proper method of brushing your pet's teeth.
We also will help you learn to identify the signs and symptoms of periodontal disease, which include: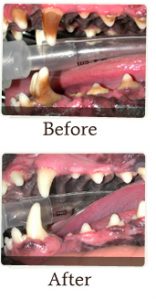 Bad breath – one of the first signs of dental disease
A yellowish-brown crust of plaque on the teeth near the gum line
Red and swollen gums
Pain or bleeding when your pet eats or when the mouth or gums are touched
Decreased appetite or difficulty eating
Loose or missing teeth
For more information on Preventive Home Dental Care, click here.
Dental X-Rays
As part of our efforts to offer the most complete, high-quality pet dental care, the team at Pitts Veterinary Hospital also offers your companion dental X-rays.
Our state-of-the-art dental X-ray technology provides intraoral digital images to aid in the expedited diagnosis of dental and oral disorders. Digital X-rays allow our veterinary team to quickly, accurately assess dental issues, which helps our doctors to build an effective treatment plan faster, leading to a less stressful experience for you and your pet.