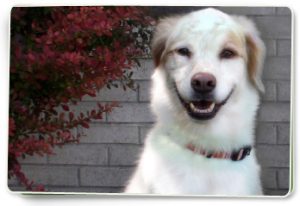 We recommend yearly wellness checkups, proper dental care here and at home, appropriate vaccinations, microchip identification, and regular screenings for diseases that commonly affect older pets. We also strongly believe that client education and communication are vital aspects of good veterinary care because the work of caring for your pet does not begin and end at our doors. It is continuous and requires empowering you with the information you need to provide the best and most compassionate care for your beloved pet.
However, despite the most aggressive preventive treatment, our pets may yet experience a periodic illness or injury. Our doctors are experienced and skilled diagnosticians equipped with a range of diagnostic tools that include digital X-ray, ultrasound, onsite laboratory, and more. The doctors also routinely share patients and discuss problem cases in order to develop the most effective treatment plan for your pet.
Because we maintain such a diverse and well-trained staff of professionals, the need for referrals to expensive specialists is greatly reduced. This means our clients are able to receive care for their pets from people they know, in a comfortable and familiar setting. Should the need for a specialist arise, Pitts Veterinary Hospital maintains close, collaborative working relationships with area specialists to ensure your pet receives prompt and appropriate care.
In all, Pitts Veterinary Hospital is able to provide an excellent standard of care for your pet. Please take a look at the services we offer and feel free to call us at (402) 423-4120 with any questions or to schedule an appointment for your pet.
Veterinary Wellness Exams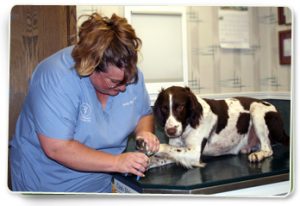 A regular physical examination is just as important for your pet as it is for you. Because your pets can't tell you how they really feel, we recommend a complete physical examination at least once a year, though more frequent exams may be encouraged.
A routine examination provides you and your veterinarian with the opportunity to develop a picture of your pet's overall health as well as to spot potential medical issues before they become serious health concerns. It's also an opportunity for you to ask your veterinarian important questions about your pet's health, habits and daily care. We also use this time to inform you about home healthcare for your pet and offer important advice and new information on the care of your particular type and breed of animal.
During your pet's wellness checkup, Pitts Veterinary Hospital doctors may:
Listen to your pet's heart – Early signs of cardiac disease such as heart murmurs and abnormal heart beat patterns known as arrhythmias can be heard through a stethoscope. Discovering these initial indicators of trouble ahead can lead to identifying and treating the underlying condition before it becomes a more serious health threat.
Listen to your pet's lungs – Health issues such as infections, obstructive diseases and other problems can be detected by listening to your pet's lungs through a stethoscope. The doctor can also assess the overall pulmonary health of your pet.
Check your pet's teeth and oral cavity – Examining your pet's teeth and mouth is an important part of preventing dental disease, which is one of the most common health concerns in pets. Very young animals, such as kittens and puppies, also need to be checked to ensure they are developing an appropriate bite and that they are losing their baby teeth at the right time. We also take the time to discuss proper home dental care with you.
Evaluate your pet's eyes – All diseases follow relatively predictable processes and if found early can be more easily treated. Ocular conditions, which can be prevented through regular care and screenings, are no exception.
Look into your pet's ears – As with dental disease, ear disease is relatively common in many types of pets. Issues such as low-grade allergies, swimming or bathing, reactions to certain foods, mites and other parasites can all cause and contribute to otitis or ear disease.
Palpate the lymph nodes, abdomen and skin – By feeling the skin, we are looking for unusual lumps or swellings as well as evaluating for skin discolorations, lesions or patterns of hair loss or thinning. These can indicate the presence of more systemic problems, especially metabolic diseases, which most commonly occur in middle-aged animals.
Lab work – Along with an annual physical examination, we recommmend a blood test to check for heartworms and a fecal test to check for internal parasites. For pets seven years of age or older, we also recommend a complete blood cell count, a chemistry profile, and urinalysis in order to create a baseline of systemic health and to detect any emergent disease processes.
Vaccinations: Safe & Effective
Vaccinations are not only safe and effective; they are an important and fundamental piece of your pet's preventative healthcare plan. Advances in veterinary immunology have made diseases that once were relatively common and fatal to pets easily preventable. Additionally, with each passing year, veterinary science is improving on existent vaccines as well as increasing our ability to prevent an even wider array of contagious diseases.
Pitts Veterinary Hospital's vaccination protocol is outlined in the Hospital Forms section of our website.
Our veterinarians truly believe that our carefully balanced approach is the best means to prevent infectious disease and the possibility of your pet having an adverse reaction to a vaccine.
Nutritional Counseling for Your Pet
We know how important a quality diet is to your pet's overall health. During your pet's comprehensive physical examination we evaluate his or her body condition and give recommendations. Some pets require special food to maintain optimum health, but all pets benefit from a balanced, healthful diet. We have trained staff available to help you with nutritional challenges for your pet. We can also offer advice and provide information about diets that benefit specific medical conditions such as liver disease, bladder and kidney stones, renal failure, food allergies and other conditions.
The staff at Pitts Veterinary Hospital is always available to help you choose the right diet for your pet in order to keep him or her happy, healthy and active.
Microchipping: Safe & Reliable Pet Identification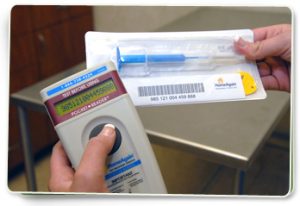 Does your pet have a microchip? Each year, millions of pets go missing and many don't make it back home. Microchipping your pet is a safe, simple and effective way to prevent this tragedy. About the size of a grain of rice, identification microchips are encoded with a number and implanted beneath your pet's skin, usually between the shoulder blades. Veterinary hospitals and animal shelters across the country and around the world are equipped with special scanners capable of reading these microchips. The information in the chip is used to reunite you with your pet.
Pitts Veterinary Hospital uses the American Kennel Club Companion Animal Recovery (AKC CAR) microchip system. This is one of the most recognized microchipping products around the world and has no annual fees or charges to update your contact information. Pitts Veterinary Hospital pre-pays the microchip enrollment, so there are no additional fees to the client after the microchip is implanted. AKC CAR recovery experts are available seven days per week, 24 hours per day to help you recover your pet via phone, email or fax. AKC CAR also participates in the American Animal Hospital Association's Pet Microchip Lookup Tool, which is a central Web portal used to help find lost pets across the country.
Our Veterinary Pharmacy
In numerous acute or chronic conditions, medication is required to cure or alleviate symptoms. At Pitts Veterinary Hospital we believe that timely and convenient access to these medications is an important aspect of caring for your pet. For this reason, we maintain a comprehensive pharmacy.
Not only does our pharmacy mean you don't have to wait for important medicines for your pet, but there is a direct line of communication between the examination room and the pharmacy. Each medication becomes part of your pet's medical record, which reduces the chance for errors and enhances our ability to monitor its use and the outcome for your pet. Refills are easy too. Simply give us a call or visit our online pharmacy and we can either mail them to you or have them ready at your next visit.