Safe & Effective Veterinary Surgical Services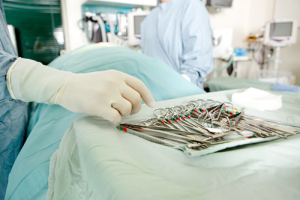 We understand that surgery is not an easy experience for you and your pet. At Pitts Veterinary Hospital we strive to ensure your pet's surgical procedure is as comfortable and stress-free as possible. To that end, we also endeavor to provide our clients with a clear understanding of why a particular procedure is necessary, what the procedure entails, proper post-operative care, and convey any other information you may need to feel comfortable that you are making the right choice for your pet.
Staffed by a team of highly trained veterinarians and experienced veterinary technicians, we are proud of the quality of surgical care we provide and the wide range of surgical procedures we offer. Beyond spay and neuter surgeries, Pitts Veterinary Hospital performs an array of orthopedic and soft tissue surgeries.
Additionally, many of our surgeries are performed by CO2 laser. This is the preferred method for specific surgeries because it seals the blood vessels and nerve endings, resulting in less pain, bleeding and swelling.
We also believe that identifying and relieving pain is important to the recovery of your pet. Therefore, pain management is an important aspect of our intra- and post-surgical protocols. At discharge, we may also send additional pain management medication home with you and your pet after providing a thorough explanation of its proper use and dosage.
To further reduce pain and promote healing, we also offer Therapeutic Laser Therapy for our surgeries. This is much different from a surgical laser and is very effective at decreasing inflammation around the surgical site and encourages healing within the body. Therapy Laser is described under Veterinary Internal Medicine.
Anesthesia & Monitoring
Anesthesia and cardiovascular monitoring are important, integral aspects of every surgery we perform. For this reason, your pet has access to the best and most advanced anesthetic administration and cardiovascular monitoring equipment and protocols that are available. They are applied and monitored by our excellent, experienced technicians with doctors continuously available.
Anesthesia is individualized for your pet based on a number of factors, which includes the type of procedure, his or her preexisting conditions, blood test values, age, breed, and prior anesthetic experience.
During anesthesia and surgery, your pet is constantly monitored by a licensed veterinary technician. We routinely monitor blood oxygen saturation, blood pressure, heart rate, and respirations. We maintain body temperature by laying the patient on a water pad that circulates warm water. All patients are monitored by a technician during the recovery process.